Merlin Brunkow-Bronco Keeps on Playing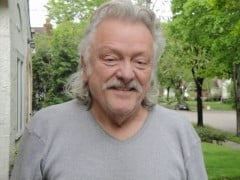 Confident, cordial and articulate, Bronco (Merlin Brunkow) is the embodiment of a vibrant and exciting historic Twin Cities musical legacy: the R&B, blues and funk music scene since the mid 1960s. Bronco is known for his talents on alto, tenor and baritone saxophone, as well as clarinet. In addition to his performance endeavors Bronco also provides our community with a horn repair shop (call 612-520-4078 for info). And he has resided on the Northside for about 15 years. (He noted that there are many musicians on the Northside due to their modest incomes and the Northside's affordable housing.)
Originally from Ipswich, South Dakota, Bronco was transplanted here to the Twin Cities at the young age of five. Bronco's mom was well known as a violinist and pianist and made it a point to have her four children study music from an early age. And two of Bronco's brothers also shared his love for brass instruments, both playing trumpet.
Bronco experienced the pinnacle of the Minneapolis R&B scene in the '70s and '80s performing with a wide variety of powerful horn bands, shaking up the cities with a home-grown funky sound unique to our area.
An incredible list of bands includes Inside Straight, the legendary Willie and the Bumblebees with Willie Murphy, the Lamont Cranston Band with Pat Hayes, Paul Metsa, Down Right Tight with Big John Dickerson, Famous Dave's Blues All Stars with Paul Mayasich, Mother Smuckers Jam and Funk Preservatives, Fat Soul City with Jeff Cryer, and The Butanes Soul Review with Maurice Jaycox. He also worked with the talented organist Billy Holloman at Arnella's (the Club Apollo of MN) with Donald Thomas on vocals. And the list goes on and on.
Bronco also had the pleasure of working on a documentary film with Willie and the Bumblebees and the infamous singer/songwriter/pianist Dr. John from New Orleans. Currently, Bronco keeps busy in the summer time with in-town gigs like the Emperors of Jazz performing on riverboats for The Andiamo St. Croix Boat & Packet Company.
Telling tales of music and performance, Bronco illuminates with a brilliance of enthusiasm inspiring in the listener a craving for more details of his wonderful adventures. One of Bronco's more daring escapades and/or unusual engagements was performing in Chicago at Buddy Guys Blues Club with Big John Dickerson decades ago. While traveling through the Windy City the band ended up in an unknown part of town hearing rapid gunfire. And if that wasn't enough excitement the van was stopped later by the police, who only found music equipment instead of drugs or illegal substances.
His love and devotion for his music and art form are awe-inspiring. Bronco insists, "I will never quit music. And I'm always looking for new projects." In conclusion, Bronco simply leaves his message, "Keep on Playing."
photo by mick laBriola