Comparison of DW and Sonor Drums
Published on Drummer Cafe Community Forum 2-20-16
DW vs SONOR DRUMS
I own a DW Black piano finish Fast Tom Kit with die cast hoops from the 90's; 10-12-14-16-20 kick. Hardware is very easy to replace. Durable built like a tank with a loud, punchy, wide open overall sound with a dance band attack, this kit can take a beating and still comes up stellar. Great for Rock n Roll, Reggae, African and Latin music. A working mans kit for sure. I have implemented so many tom heads on the DW's, and it has been very challenging to say the least. I keep going back to Evans G1 or 2 as a lighter single ply head like a Remo Ambassador, do not accommodate well to the DW's. I call DW's, Ayottes and Phatties that I own, the BIG BOOM BOOM KITS.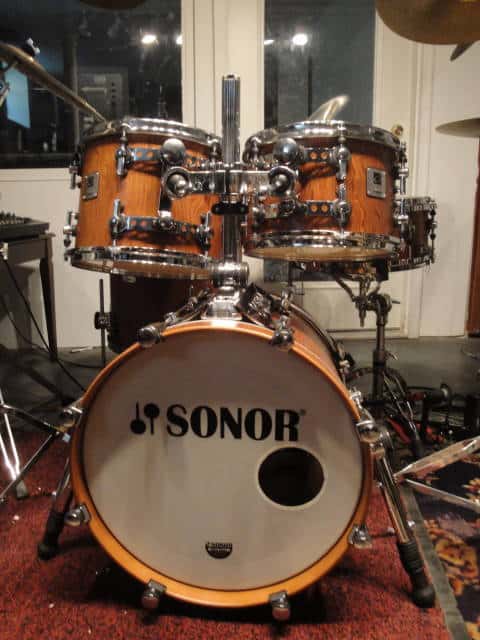 I own two SONOR Designer Bubinga kits one Birch one Light Maple. Birch 12-14-18 kick with 14×6.5 snare and the Maple 12-13-16-18 kick. The Sonors are a quieter Controlled sound kit overall. All very durable and sturdy but with a higher quality custom furniture finish and very precision and heavy hardware but parts are very difficult to replace and or order and don't let me forget the SONOR non standard drum key (very weird). The sound is certainly wonderful for vintage jazz, R&B, Blues, New Orleans or really any genre of music including theater, dance company music or church/synagogue settings. The SONORs have a brighter tom sound, tuned to pitch similar to the 50's jazz standard of tuning, they are awesome sounding. I use Remo Ambassadors and frankly they are unusually astounding sounding on these kits. My 1965 Slingerlands have a similar sound but a bit louder with of course the vintage flimsy hardware that was standard back in those days. From about 1969 to 1980's I had to tie my kick drum to my drum throne because there was no way it would ever stay in place with my wild bronco drumming approach.
So to conclude DW big-loud-great hardware-difficult to tune-reliable-tuning more limited. SONOR quieter sound-beautiful tone-pitch oriented-artistic look-great hardware but difficult to replace-easy to tune-generally more flexible tuning capability! In conclusion I found the kick drums of both brands very easy to tune and accommodate as well as the snare drums.
Does this help?
Good Luck Amigos
micklabriola.com