Johnna Morrow: Survival Through Diversification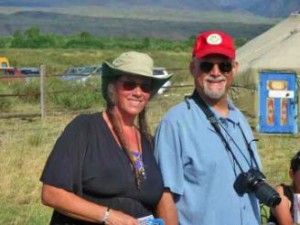 Singer/songwriter and multi-instrumentalist Johnna Morrow and her husband Steve Sklar are purveyors of an array of world musics. Among their treasures are the deep, hypnotic, pulsating sounds of the Australian indigenous didgeridoo (often a natural wood, conical drone pipe about 10 feet long reminding me of the alpine horns I saw as a kid), and the mesmerizing Tuvan Throat Singing (Xoomii or Khoomei) of the Tuva Republic in the far south of Siberia.
Johnna and Steve together embody a musical journey that often takes them to multiple travels throughout Mongolia and festivals throughout the world touring, performing, hosting and savoring the beautiful music of remote areas of the globe.
Johnna is a stunning vocalist who plays guitar, doshpuluur, flutes, tsuur (Mongolian flute), futujana (Slovakian flute), piccolo, didgeridoo and percussion. Steve, also a tremendous vocalist and guitarist, additionally performs on igil (bowed double string), doshpuluur (three-stringed lute with goat skin) and didgeridoo. He is a master throat singer and a recording engineer as well.
Johnna and Steve have resided in their current Northside residence since 1985. As well as a musician, Johnna is a visual artist working in ink, watercolors and acrylics. Her other media include oil pastels, weaving/fiber and ceramics. Johnna is also a student and practitioner of Qigong and participates in dance, yoga and taiji.
Born in Cleveland, Ohio, Johnna spent much of her youth in the Fox Valley area of Wisconsin in the small village of Sherwood. Both her parents were athletes and musicians; in fact her parents met at the famous Interlochen Music Camp in Michigan. Both her grandmothers were musical as well, one a vocalist, and the other a pianist. As a child Johnna studied dance, flute and choir by 5th grade and added guitar at 15. While in college in Stevens Point, Wisconsin she performed at coffee houses while training on classical flute.
In 1982 Johnna moved to the Twin Cities. Two months later, on the very day she broke her piccolo, she met Steve, who had been studying instrument repair in Red Wing. Together they have had many music ensembles including Big Sky, the Overtone Orchestra and Little Green Men. In 2010 they were both awarded for best foreign musician performances at "Ustuu-Huree" Festival in Chadana, Republic of Tuva Siberia. This festival was a benefit for the renovation of a Buddhist Temple. Other notable performances at the festival included Sun Ra and the Tuvan Brass Orchestra.
Steve described their detainment through the border from Mongolia to Russia: they met some Kazaks (people from Kazakhstan) and soon someone was playing the Dombra (2-stringed lute); Steve started throat singing and Johnna played the didgeridoo and everyone was enchanted.
At the end of my interview with them, both Johnna and Steve picked up a didgeridoo, which look like giant horns whose bellowing bases sit on the floor, and played soothing deep low tones vibrating like an audio massage through my entire being and their home. It was thrilling!
Johnna and Steve will be performing at the 42d Avenue Station Coffee House, 4171 Lyndale N. on December 10 and January 15. Johnna illustrates that she and Steve bring back traditional world musics and mix it up with their own creative process. Visit their website in progress.
Johnna quotes Mark Twain: "Travel is fatal to prejudice, bigotry, and narrow-mindedness, and many of our people need it sorely on these accounts. Broad, wholesome, charitable views of men and things cannot be acquired by vegetating in one little corner of the earth all one's lifetime." Johnna expresses: "Survival through diversification"; "Get it out there more."