Larry Greenstein "I do music not to just make a living, but to enjoy living as much as possible."
by mick laBriola-Camden News-11-1-11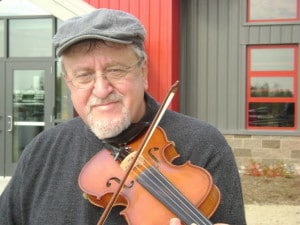 The gracious, pleasant and joyful Larry Greenstein is a life-long northsider dedicating his career to Traditional American and Celtic Fiddling, in addition to working as a Guitarist/Singer, Playwright, a Recreational Therapist and fundraiser for the Guthrie Theater. You can reach him via his web site, fiddlertogo.com, to see what he is up to. He is truly a Community Artist dedicating his career to the service of others, rather than exclusively showcasing his talents in the performance arena. I think we should have an award for every lifetime northside artist: The "Northside Lifetime Artist Achievement Award." What do you guys think?
Larry was born on the northside at Queens Avenue Maternity Home, originally located at Glenwood and Plymouth Avenues, and lived with his parents, Joe and Maria Greenstein, and his sister Rachel. The family moved to Larry's current residence, where he has been since 1969. He lives with his wife, Jodi, and daughter, Hannah. Jodi works as a social worker in Golden Valley.
Maria, Larry's mother, played mandolin and sang Polish and Ukrainian music around the home, which had a strong influence on Larry's music career. Larry recalls first playing violin around age eight or ten, while attending John Hay Elementary School, once located at Penn and Oakland. He also was taking violin lessons from Catholic nuns at St. Joseph's Church, once located at I-94 and Plymouth Avenue. His dad, Joe, had a grocery store, the Bargain Price Market, and was known as the "Pumpkin Man. Through his generosity hundreds of free pumpkins were distributed to school kids on "Pumpkin Day" in north Minneapolis (see the full story). Joe was also an Alderman in the 5th Ward. Larry pleasantly remembers taking a bus to the grocery store after school and then walking to his violin lessons at St. Joseph's Church.
Larry continued playing music in the orchestra at John Hay Elementary, and then carried on music at Lincoln Junior High, switching to percussion, specifically the snare drum. Later, attending Shattuck Military School (St Mary's) – a boarding school in Fairbault, MN –
Larry again switched instruments, this time to the Bass Drum. There he befriended Doug Humphrey, son of Minnesota Political Legend, Hubert H Humphrey.
In 1973 Larry earned a Bachelor of Arts Degree in Theater from the University of Minnesota. While attending college Larry developed his skills as a playwright, and in 1978/79 became a Jerome Foundation Resident Playwright at the Playwrights' Center in Minneapolis for one year.
Although Larry received critical reviews for a production of an original work entitled "The Caucus" at Chimera Theater in 1981, he decided to re-direct his continuing education to Human Services; he next earned a Masters Degree in Therapeutic Recreation.
But he kept writing plays. He has had plays produced at the Lakeshore Players ("The Trotsky Rebellion"), Storytalers Children's Theater ("The Littlest Snowflake"), and most recently the Northfield Arts Guild ("Alternate Bass Strum," "King of the Fiddlers," and "Homeless TV Segment.") In October of 2011 his play, "Alternate Bass Strum", was also featured at the Roy Arias Theater, near Times Square in New York City.
Larry worked as a Recreational Therapist through the 1980s and 90s, touring and performing on Guitar, conducting "Sing-a-Longs" in Nursing and Group Homes and Adult Day Care Centers, as well as doing one-to-one sessions for patients. Larry also directed several Theater groups for seniors.
In 2001/02 Larry created a new business called "Fiddler To Go", a little Celtic and Old Time Fiddle music for parties, classrooms or historical events. Larry exclaimed, "If you ever need a fiddler of ole time music give me a call."
He has performed for events at many locations: Heritage Days and Solstice at Three Rivers Parks; Murphy's Landing (reenactment of 1800's settler village); Gale Wood Farm and North Mississippi Regional Park; NE Minneapolis Arts Crawl; Spring Valley Historical Society; and at Elementary and Pre-Schools, and facilities for Seniors. Larry also worked for 15 years on the Ski Patrol for Three Rivers Parks.
On December 3rd  Larry will be performing at Murphy's Landing (now called "The Landing") for the "39th Annual Folkways of the Holidays" from 10am-4pm. The Landing is located at 2187 Highway 101 East in Shakopee, MN 55379 or call 763-694-7784. Larry will also perform on December 10th for "Gifts of the Holidays, Craft, Art & Food Fair" held at Crystal Community Center located at 4800 Douglas Drive in Crystal, MN 55429 or call 763-360-0588.
Larry articulates, "The kind of music I play is traditional and Celtic fiddling, not bar or club music. I feel young people should get started early. And if they're lucky enough to do this it is very rewarding. North Minneapolis youth have access to as much music and art as possible. Not just to make a living, but to enjoy Living, as much as possible."