Michael Mothershed "Do it for the Love, and not the money, and you'll have a career!"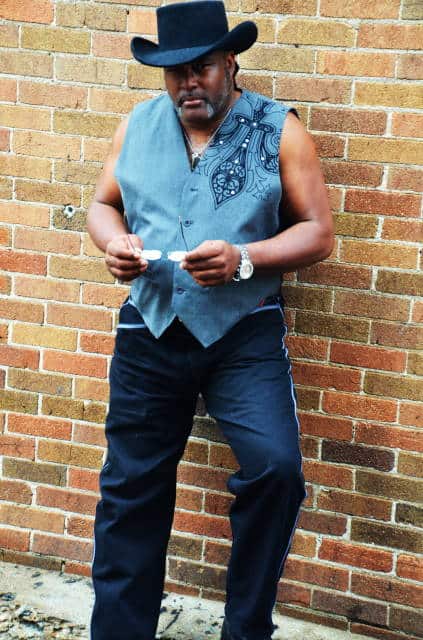 by mick laBriola-Camden News-8-1-11
The bold, daring, vibrant and auspicious demeanor of vocalist Michael Mothershed is one of obvious delight. Big as life itself, Michael exudes an excitement and enthusiasm about his art form that is unprecedented by any conventional standards.
Michael asserts, "I am a vocalist out of the 70's genres: R&B, Jazz, Blues and Rock."
Michael has been a North Minneapolis resident off and on since 1989, primarily working as an Electrical Engineer. Originally from Independence, Kansas in the southeastern section of the state near the Oklahoma border, Michael also spent ten years living in Atlanta, Georgia. Michael has two daughters: Mya, 12, and Shaina, 24.
Early musical endeavors in the Twin Cities included the Flatfoot Rollers and Billyclub Snyder and the Snitch Boyz. Michael was also featured in several National events such as opening up in 1998 for Frankie Beverly and Maze in Los Angeles at the Great Western Forum where the Lakers used to play; The Red, White and Blue Blues Show in Chicago from 2000-2010; and in 2008 The Rat Pack Show of Atlanta.
Michael, has had a serious attitude about music from an early age. In his hometown Michael became Choir Director and Music Leader at age 12 for a local Baptist Church, a post he maintained until about age 22. He was considered a child prodigy and remembers "How excited the people got hearing young people singing with such conviction and passion. It was so exciting. Later I then understood why people flipped out about James Brown and understood why people got so engulfed in music." Obviously, performers like James Brown exemplified the intense passion that was possible in vocalists of this era of music-making. Next Michael began studying the accomplishments of such artists as James Brown, Elton John, David Rivkin and Carlos Santana.
At age 22 Michael steadfastly served his country with four years in the Army and 8 years in the Navy. He was stationed in Los Angeles and was very fortunate to do backup vocal work for Luther Vandross. He states, "I was not a harmony singer. I took my knowledge to a whole other level."
In 1989, prefacing his Navy career, Michael relocated to Minneapolis and worked security for the Riverview Supper Club in North Minneapolis. There he met music legends Johnny Hodges, Bobby Blu Bland, Bobby Womack, Johnny Taylor and the Average White Band. "That was major for me, exclaims Michael." And this became a turning point of his musical perspective.
By 1999 Michael's work dried up in Minneapolis and he moved to Atlanta, Georgia, home of a phenomenal historic blues scene! He started singing the Blues and opened for acts like Mel Waiters and Sir Charles Jones. Michael was suddenly noticed by local bands and became sought after to get down with the gritty blues thang and work with them. This was exciting but not very lucrative. When Michael's electrical engineering work started to take off he acquired a job in Shakopee and found himself back in the Twin Cities.
Michael then created a new objective with his musical career, and decided to be a Lead Front Man determined to work with committed musicians and also book and manage the bands as well. This was a giant step. A few years later he posted ads on Craigslist and found his current projects.
Function Junction, a R&B, Funk and Motown seven piece group with three vocalists two years running. And The Undergroove, an original six piece R&B group also performing obscure covers for the last three years.
Michael recalls probably the most pivotal comment ever given to him, while working at the Riverview Supperclub. I was given the best advice imaginable! "Do it for the love, and not the money, and you'll have a career!"