Milo Fine: Composing in Real Time
by mick laBriola 6-9-10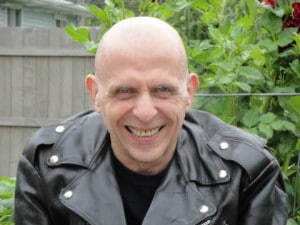 Milo Fine is an internationally-known Multi-Instrumentalist/Composer (www.fetik3.com/milofine/) who for over four decades has devoted his musical ambitions to the Improvised Music/Free Jazz idiom. With approximately 40 recordings in his Discography, Milo continues to unveil performances, recordings, teachings and the development of ideas in his most unusual area of music making. The very-focused and ambitiously self-determined Mr. Fine exudes a refinement and austerity when describing his musical journey into the world of unconventional and/or non-commercial music genres. Milo considers himself a virtually self-taught musician,"finding my own way".
As a infant, Milo resided on the near north side. Although his family soon moved to Bloomington, MN, Milo returned to North Minneapolis permanently as an adult. Milo and his partner Susan J Sperl have resided in their near-northside residence since 1988, and have an incredible story about acquiring their adjacent lot from the City of Minneapolis for $1 . Susan is a felt-maker (susanjsperl.com); she and Milo worked together for 10 years in the dance/music collaboration "Gutter Cleaners."
Milo's father, Elliot Fine (Percussionist for the Minnesota Orchestra for 44 years), had a significant influence on Milo, even though Milo was not a student of his father. Milo recalls playing marimba for holiday carols in first grade; at age 10 taking on the snare drum and drum set by 13; and by 14 studying piano. Milo continued to expand his instrumental repertoire, adding Bb, alto and Eb clarinets.
While studying piano with James Allen, Milo had a revelatory experience. Mr. Allen gave Milo a Beatles music book without designated chords for the music. When Milo questioned this, Mr. Allen simply asked Milo to find chord combinations on his own. Milo began to realize that chord combinations were endless/infinite, and so many options can manifest. "This was a turning point in my musical direction." Milo further aspired to explore unusual methods of musical expression and to not adhere to the cultural values of sound and conventional harmonic structure.
Milo recently returned from Vienna, Austria, where he performed and recorded with Fritz Novotny and the Reform Art Unit (Orchestra), and enjoyed a walk in the Vienna woods and a wonderful Austrian home-cooked meal. Back in 1996/97 Milo had performed and recorded with the Reform Art Unit working with Novotny, Sepp Mitterbauer, Walter Malli and Paul Fields.
Since the 1969 inception of Milo's "Free Jazz Ensemble" (with Scott Munsell, Steve and Dokken), Milo has worked with an incredible array of musicians (partial list): Dean Granros, Carei Thomas, Anthony Cox, Scott Newell, Curtis Wenzel, John O'Brien, Nick Radovich, Elliot Fine, Nathan Smith, Davu Seru, Andrew Lafkas, Charles Gillett, Derek Bailey, Dave Stone, Borbetomagus, Anthony Braxton, Reykjavik Gold, Keith Miller Trio, Teenage BoatPeople, and Gorge Trio (the list is innumerable). Current colleagues include Viv Corringham, Stefan Kac, Paul Metzger, Elaine Evans and Aerosol Pike.
Milo also teaches and performs at the West Bank School of Music and since 1983 has had ongoing concerts at the West Bank School; in addition to performances since 2003, at Homewood Studios. Please check his web site for Concert Dates. Milo also performs duos with Steve Gnitka (since 1975) who currently combine to form the nucleus of "Free Jazz Ensemble."
"My music has no preconceived plan or design" explains Milo. "I sculpt the sounds in the moment, I am composing in real time".
photo by mick laBriola