Kenneth W Garnier "Music comes from the universe and you are frequency"
by mick laBriola-Camden News-9-1-11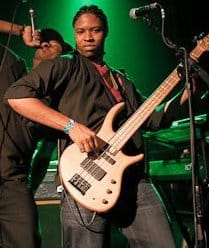 The very amiable, kind and courteous Kenneth W Garnier is a skilled Bass player (electric and upright) soaring his way to the top of his field. The much-sought-after Bassist is best known for his current project: The KRENDENTIALS, who performed at the 2011 Black Music Awards and have been together since 2008.
Kenneth has lived on the northside for about a year in a house he is rehabbing with his brother Joseph. However, Kenneth did reside briefly on the northside as an infant. Kenneth has two daughters: Anijah Gabrielle Marie, seven years old; and Arriannah Aaynessiah, six years old.
As a child, Kenneth was thoroughly immersed in music and art by his intensely artistic parents: Kenneth P Garnier and Olivia D King. Olivia is a dancer; and Kenneth P is a pastor of the Church of Christ ministry, the founder of his music ensemble Akouo, a Bass player, songwriter and producer. As a result, Kenneth's siblings are also incredibly artistically creative individuals. Brother Joseph initially played violin and has moved on to all instruments; Sister Alannah also studied violin and is working as an opera singer in Los Angeles; and sister Elizabeth studied guitar and viola. All the children at an early age were active in theater, acting, commercials, photo shoots and auditions. Kenneth proclaims a childhood motto, "You stay busy, you stay out of trouble!"
Kenneth attended the Ramsey International Center for the Arts grammar school K-8th grades, studied cello for eight years and performed with the St Paul Youth Chamber Orchestra. But Kenneth had more ambitions and as he states, "I would sit down with the cello, radio, and play along! Soon my friends and I created a Pop Orchestra at school. Listening to theme songs and Santana or whatever. I also studied African Drumming with my instructor Pat Kelly of Ramsey school."
Kenneth reminisces, "The entire family would jam at the house and helped Dad write songs. We would all travel across the country attending church events. We would listen to a wide range of music from Jaco Pastorius to the Funkadelics-love music-road trips. There's a song for every occasion!"
Kenneth's father was the pastor of the Minneapolis Central Church of Christ located on 4th Street and Newton Avenue North for many years; and Kenneth P was very active in the implementation of music in their church services. Kenneth recalls, " As a young child of five or six I remember singing lead, playing drums, piano and African percussion instruments in church." The Church of Christ considers itself a pre-Christian religion and at one time did not use instrumental accompaniment with it's worship singing.
Kenneth later attended Washburn High School, playing in the Orchestra for one-and-a-half years and in the Jazz band. Later he joined a trio with Matt Hughes and Matt Brennemen and performed for Macy's, Target Corporation, the Park Board and private events. The group did covers from Van Morrison to Jamiroquai.
As a Bassist, Kenneth had the incredible opportunity to study at Victor Wooten's Bass/Nature Camp in Nashville, Tennessee. Kenneth has also met several Bass Guitar giants and attended many concerts of mentors such as Larry Graham, Stanley Clarke and Marcus Miller.
At 18 or 19 Kenneth premiered his first real group "Serious Buddha", a funk and R&B group, with Jimmy Schlenker, who also taught Kenneth about music production. Kenneth began backing up vocalists Erika West and Queen Drea. Later, Kenneth joined "New Congress" with Russ King and Arron Cosgrove and opened for "Pharcyde", a national hip-hop group.
In 2008 Kenneth joined the KREDENTIALS. The group recently returned from a tour in Kansas and are about to debut their new CD which is a collaborative effort by all its members. Kenneth has also been working with local singing Latina diva Maria Isa, Ashley Gold, Autumn Compton and Chase & Ovation, a Prince cover band.
Kenneth supplements his income working in office telemarketing, the service industry and security. He currently is working at the "Country Bar" at 3006 Lyndale Avenue South, doing Karaoke hosting, bartending and cooking.
Kenneth expresses, "I think everybody has rhythm, or just listen, you are helping to create music. Music comes from the universe and you are frequency! If you like the arts just get to know yourself. You can create anything that you want!"