Korey Hicks "I want to make other people happy when I play music"
 by mick laBriola-Camden News-10-1-11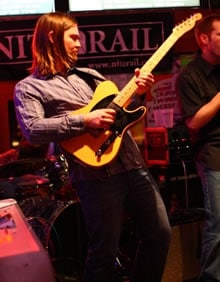 Emanating a great deal of confidence, Korey Hicks is a hard-driving guitarist knocking out crisp tones, smooth licks and a powerful country twang on his vintage collection of Fender and Gibson guitars. Korey is a Twin-Cities-based guitarist and guitar instructor. You can visit his website at koreyhicks.com to hear samples of his music. And his performance schedule is posted at chrisbrooksband.com for his current band "Chris Brooks and the Silver City Boys".
Korey is a full-time stay-at-home Dad who resides with his wife, Andrea, and their 17-month-old daughter, Charlotte. They have lived on the northside since 2006. The family lives in a house built in the 1950s by Andrea's grandparents, the Hodgsons.
Korey is originally from Rochester, Minnesota, and moved to the Twin Cities in 2000. He shared one of his earliest musical experiences with me: "I remember going to the music store with my dad, Donald, and he bought a Les Paul guitar when I was six years old. My dad played Blues and Rock and performed with his local church worship service; he also had a vast record collection that influenced me alot." This obviously made an impression on Korey, but he insists that he did not really have an interest in music then. Even though at nine years old his Dad did want Korey to pursue music.
Finally, at age 13 or 14, Korey took the leap and immersed himself in what would become his future career. He quickly digested his sister Kim's record collection as well. Korey considers himself self-taught; he read through tons of instruction books and biographies of musicians, as well as practiced on a regular basis.
While attending Plainview High School in Plainview, Minnesota, Korey performed with his band "The White Hotel". The group's first performance was at the Jon Hassler Theater in Plainview, affiliated with the Rural America Arts Partnership. He was with the band until he was 18. Korey expressed to his amazement, "I learned Blues through Dad's record collection, studied Jazz in college, and now I make my living in a Country Band!"
In 2001 and 2002 Korey attended summer Guitar Sessions at Berklee School of Music in Boston. The sessions emphasized practical playing experience through a variety of classes, clinics, and performance activities. In 2003 Korey moved to Boston to become a full-time student at Berklee College. Two years later he returned to the Twin Cities and graduated Magna Cum Laude from McNally Smith College of Music, in St. Paul, with a Bachelor's Degree in Guitar Performance. Over this period of time Korey performed with Shelby's Voyage, a top-40 band: Iron Horse, a Country band; and the St. Croix United Methodist Praise Band in Lakeville.
Korey emphasized, "I had the Maximized Experience: for two years I would practice from 5am to 7:30am, work till 5:30pm, teach from 6 to 10pm and come home and practice again." Korey taught at Swift School of Music in St. Paul and the Riff Factory (Guitar Center affiliate) in Roseville. Since then, Korey has played over 800 shows regionally and has opened for artists such as Chris Duarte, Thompson Square, Willie 'Big Eyes' Smith (Muddy Waters) and Indigenous. Korey received special recognition performing for Whiskey Junction's "Guitar Extravaganza" in 2009 and winning the Guitar Center's "Guitarmageddon" in 2007.
Korey finds his current project working with Chris Brooks (former lead singer of The Mason Dixons) very fulfilling. "In Country music I get to play a lot of guitar, and we have played for huge crowds opening up for acts like Little Texas, Two Tons of Steel, Dale Watson and Troy Olsen.
With another child on the way, however, Korey was considering moving to Austin, Texas. He has done several auditions for national acts to perhaps broaden his income. The current state of the music industry is very challenging for musicians these days! Work is very competitive, and not as plentiful as it once was prior to the internet boom.
Korey shared, " I learned for myself that some types of musicians play for themselves, which is important– like the reflections of David Liebman on his book "Self Portrait of a Jazz Artist" – and some play for other people. That's why I chose Country music. I want to make other people happy when I play music."