Kenna-Camara Cottman "When you are Black and creating a work, Blackness is in it!"
by mick laBriola-Camden News-7-1-11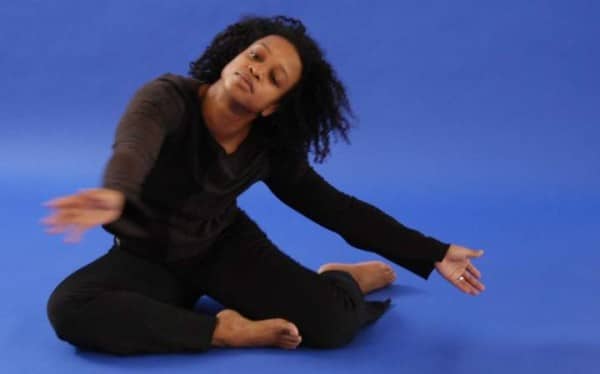 The electric, enigmatic and stunning energy of Kenna-Camara Cottman is a highly contagious and exciting experience. Black Dance Artist, choreographer, musician and educator, Kenna has an intense commitment to her art and to becoming a Black American Griot in the Malinke (Mandinka) traditions of West Africa. You can reach Kenna via her web site.
Kenna's current work consists of two major segments: First, she is Artistic Director of Voice of Culture Drum and Dance, an association of young artists who are dedicated to West African arts and culture; second is Kenna's contemporary/original work emphasizing West African and Hip Hop dance and culture. (This includes her role as a principal dancer of Ananya Dance Theatre, building community and social justice for women of color, and being a member of Baato Askan Wii Drum and Dance in Gambia, West Africa.)
Kenna has two children: Yonci, her 12-year-old daughter; and her four-year-old son, Ebrima. Kenna has resided on the northside for about 12 years. Kenna also attended North High School where her mom Beverly Cottman taught Biology.
As a child, Kenna states, "Art was a given and Art was all around" in her household. Her mom Beverly was painting, weaving and dancing, as well as teaching for a living; her dad Bill was writing and doing photography, as well as working as an engineer for Honeywell.
Kenna recalls at age four or five participating in the production of "Medea" at the Jewish Community Center with her mother. They needed children to perform roles and suddenly Kenna was on stage. However, Kenna elaborates," I was always given a choice to get involved with my mom's projects, I was never forced." Kenna also recalls going to many of Morris Johnson's dance classes with mom. The totality of her art experience at a young age Kenna calls "Art Centricity!"
Along with this unique exposure to art came the very empowering experience of "Afro Centricity", a vital sense of pride of her Blackness and appreciation of African Roots and African-American heritage. Kenna has trained with a host of West African artists, such as William Atchouellou and Henriette Gbou of Cote D'Ivoire; Fode Moussa Camara and Mouminatou Camara of Guinea; Zalika Reid of Jamaica; Rich Baba Faye and Muse Sarr of Senegal; and Francis Kofi and Christian Adeti of Ghana.
Kenna's journey to creating her own art work came after her formal school training. Kenna received a Teaching Degree from the University of Minnesota and went on to a Master's Degree in Elementary Education. After concluding five years of conventional teaching, Kenna began teaching at Harvest Prep School/Seed Academy where she was given an opportunity to teach subjects of her own discretion. Thus she began courses in theater, dance, music and media. This was a turning point in Kenna's career as Kenna concludes, "This was feeding me."
In 2004 Kenna was working as an administrator in the offices of COMPAS, an arts organization. She then had the opportunity to work as a member of COMPAS's artist roster and as Kenna states, "Went out on a limb, doing my own art". Kenna then was teaching art courses for educators at the Perpich Center for Arts Education.
"Since I quit my straight job and became a full-time artist I have not been idle, "  Kenna enthusiastically expresses.
Kenna is on the performing artist rosters of COMPAS and Young Audiences of Minnesota, teaches Hip Hop and West African concert dance at the University of MN; Thought & Motion for WEWin Rites of Passage; and classes at BallareTeatro School of Dance.
Kenna is working on choreography projects with James Sewell Ballet and YoungDance, and is the recipient of a Momentum 2011:New Dance Works production grant from the Southern Theater and the Walker Art Center. Kenna is the curator of Black Choreographers' Evening '03-'05 and African Nights 2010 at Patrick's Cabaret. She has performed the work of Roxane Wallace, Leah Nelson, Aneka McMullen, and Morris Johnson – all Minnesota dance artists with national and international acclaim. Outside of her culture, Kenna works with cutting-edge performers like Pramila Vasudevan and April Sellers.
"I believe there is a Black esthetic that draws from the Black experience. When you are Black and creating a work, Blackness is in it!"