Kevin Washington: Jumping Out of the Box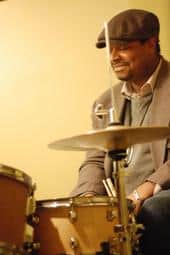 Combine the rich components of Jazz with the traditional cultural musical elements of the African Diaspora, intersperse a contemporary musicality and a rhythmic driving force that just will not quit; then you have discovered Kevin Washington. Kevin is a musician, percussionist/drummer, performer, theater accompanist and educator, and in Kevin's words "A jack of all trades." The highly energetic Kevin Washington has an intense passion and energy about his career that is overwhelmingly contagious and on fire. His vigorous musical exploits have charted him in the national music arena. Kevin has lived on the Northside for 10 years, has two daughters, Olivia and Nakaiya, and lives with his wife Lisa.
When I asked how his musical interest began, Kevin quickly showed me a cell phone picture of himself at age two with his first Toys 'R' Us drum set, given to him by his great-great-aunt that he never met. From that day on Kevin became very well acquainted with his destiny and his sense/strive for knowledge and development of his craft. His motivation is endless and awe-inspiring! Kevin was then performing by age five.
Both his parents, Donald and Faye Washington, are skilled musicians and educators. While in 6th grade in Detroit Kevin performed with his mom's middle school band, Band Direct, and his dad's ensemble Byrd Trane Sko Now, an after-school project where he met the great Jazz instrumentalist Roscoe Mitchell.
Kevin's parents relocated the family to Minneapolis from Detroit in 1987. Kevin confirms that 90 percent of his musicality comes from Detroit where he became familiar with Jazz legends James Carter, Anthony Braxton, Max Roach, Roy Brooks, Lester Bowie, Malachi Favors, Don Moyee and the AACM. His parents decided to settle here after contemplating a move to Seattle, Vancouver, Atlanta or Fairbanks. Donald first came to Minneapolis with his artist/poet friend Ibn Pori Pitt to perform at the first Juneteenth.
From 1993 Kevin found himself performing with the Northeast Junior High Concert Band, the South High School Wind Ensemble and Jazz Band, followed by the Fridley High School Drum Line and Jazz Band.
By 1996 Kevin had moved to New York and attended the New School for Jazz and Contem-porary Music where he met Jazz greats Chico Freeman, Reggie Workman, Charlie Percip and Cecil Bridgewater. This led to performances with Fred Hopkins, Artie Lawrence and Chico Freeman. Kevin also found himself doing street performances with Bruce Edwards from Sun Ra in Times Square, Columbus Circle and Penn Station.
The Harlem School of the Arts was Kevin's first teaching experience. Kevin currently teaches at McNally Smith College of Music and Walker West Music Academy in St. Paul. Kevin also has worked with theater music in local productions such as Caroline, or Change (Guthrie Theater), Black Nativity (Penumbra) and Circle Around the Island (Southern Theater). Kevin's current collaborations are with Nachito Herrea, Bruce Henry, Anthony Cox, Tim Ries, Rodney Jones, Brian Lynch, Des Damona and the Kevin Washington Quartet.
Kevin is deeply inspired by the music and the spirituality of the indigenous cultures of the world, "This is the true God, true Religion, get Holy Ghost." And he is also inspired by his never-ending learning process. He quoted the incredible jazz drummer/mentor Max Roach, "You stop learning then quit!" Kevin expresses, "Don't be scared to leave your box. There's a lot of other music out there that you don't know about. It's a big world out there. Jump out of the box!"