"Consciousness Altering Cultures in Harmony"
by mick laBriola 3-7-16
SONG OF WONDER
SYNOPSIS
A Concert with Voices of Sepharad and Nirmala Rajasekar
Saturday March 5th 2016 final season performance
Rochester Civic Theater
This was the final concert in a series of performances occurring the week of March 1st 2016 for the SONG OF WONDER collaboration. This series initiating in 2014 in Minneapolis, MN and surrounding communities.
SONG OF WONDER is a combination of the Jewish Sephardic group Voices of Sepharad-VOS David Jordan Harris-vocals, David Burk-guitar/oud and myself (minus our violinist David Stenshoel). Combined with the Carnatic Ensemble of Nirmala Rajasekar-Veena/Vocals with Thanjavur Murugaboopathi-Mridangam, Sowmya Rachakonda-vocals and Priya Kanajam-vocals. The project has attempted to present music of each cultural genre, plus ambitiously combining the two cultural musics into a pastiche of a curious culminating endeavor or "Curried Couscous Gumbo."
Since I am the percussionist for VOS (since 1986) I am vibrantly eager to explore the multi-varried cultural influences of the Sephardim; whose culture was reprehensibly dispersed from Spain in 1492 to dozens of countries in Europe, the Levant and as far east as Iraq, Iran, Bukhara and even China.
I have always had a deep passion for East Indian music particularly Classical Hindustani and Carnatic music. Over my decades of studying rhythm I had only briefly studied Tabla with Pandit Veejay Shankar, Gopal Mishra and Rushi Vakil (at the Rhythm Riders Institute in Gujarat, India). In addition with a mere few lessons with the Mridangam player for Alarmel Valli in the late 1980's. Needless to say I never became a Tabla or Mridangam player of classical Indian music. I think it's takes a daily regime of 4 hours practice for at least a decade, just to initiate the process of such an enormous journey. And I think I may have ruined my hands for tabla at an early age learning Conga & Bongo drums and rigorously performing like a maniac!
When the collaboration began with Nirmala's Carnatic ensemble I felt I would be rhythmically challenged at a minimum and mysteriously mystified in general by their beautiful music. The TALA system of rhythm in Carnatic music is vast, consisting of hundreds of variations that when performed as a solo can last an undetermined duration. My rhythmic vocabulary seemed to me like Addition/Subtraction in math, compared to the Mridangam math of Calculus & Logarithm systems. "Good luck mick!"
Each ensemble had pieces of music to present in our concert individually, as well as the blending of the two genres to create a new found meeting ground for experimentation and application of each ensembles music. So I decided to play bass guitar on a blended number, AGALDECHA a Sephardic piece borrowed from the 10th c. poet Abraham ibn Ezrah. That way Nirmala's mridangam player Boopathi, could be featured including displaying his Konnakol (verbal rhythm syllabicating). I also had an opportunity to help with drones on the bass for other Carnatic pieces. This was great opportunity to play something other than a percussion instrument. As it was I had brought out an arsenal of instruments including dumbeck (egyptian), djembe (american), riqq (egyptian), def (turkish) and cajon (Spanish). I felt in order to present a varying array of color and sound, in contrast to the mridangam, I would need a variety of drums. Even though any one of my instruments can produce a spectacular spectrum of sound and articulation. The question was "Am I capable of executing this on one instrument or not? Duh!"
When our ensemble initially presented our project in 2014, we found a way in which to successfully perform our program, and mutually felt that we accomplished a wonderful production. Each time we re emerged through practice, dialogue and performances; we continually achieved a more advanced outcome; "Feeling like we were indeed getting somewhere."
We concluded our World Fusion presentation with a Carnatic piece labeled "Naagendra-Cosmic Dance of Shiva" with a concluding all percussion solo and duet. I really was terrified about this, knowing the vast complexity of the mridangam in relationship to my rhythm instruments and my limited knowledge of each instrument. Here I was next to a Master Mridangam player, a very humbling experience for sure. We would conclude each concert with a percussion duet, ending each performance with the usual TeHi (concluding repeated phrases-3x's). However no matter how many times we rehearsed this TeHi pattern it would vary show to show. I would discuss this with my group and we all agreed we could not easily find the downbeat each time as it was performed by Boopathi. It was becoming a bit stressful for me but each time we ended a show everything seemed to work out fine. Still there was always a possibility of mick not ending on the last note with Boopathi, and I certainly did not want this to happen. Even though it did happen once.
So here we are with the last show of our short week of performing and I'm sure we all wanted a fabulous outcome. I had been talking with Nirmala and she is always so gracious and kind to us gringos. The two of us discussed the healing energy of music and how much the world needs these awesome vibrations emanating out there in our universe; as I had also shared this in a conversation with Sowmya one of the singers the day before. While reviewing the performance with Nirmala she gave me her beautiful smile with her very curious Indian mannerism and said, "You are an old soul who has this knowledge deep inside of you." And I then felt so illuminated and humbled. Every performance VOS shared with Nirmala found her to be so giving and empowering with us. Nirmala and Boopathi would give so much of themselves to us with sheer kindness and empathy; and the desire to explore, experiment and constantly strive to stretch the boundaries of our limitations. It was all so gently uplifting and powerfully magical.
By the end of the performance some more magic occurred in the percussion solos, followed by the percussionists trading of 8's, 4's, 2's & 1's; all Culminating into an ecstatic TEHI finale.
After the show I was greeted with an abundance of enthusiasm, gratefulness and pure joy. Audience members approached all musicians in the lobby with jubilation and a sense of astonishment. As I thanked the East Indian players for their outstanding support and energetic force, Nirmala said she thought I went into a trance during my percussion solo and said "It is a gift." Namaste! Much love!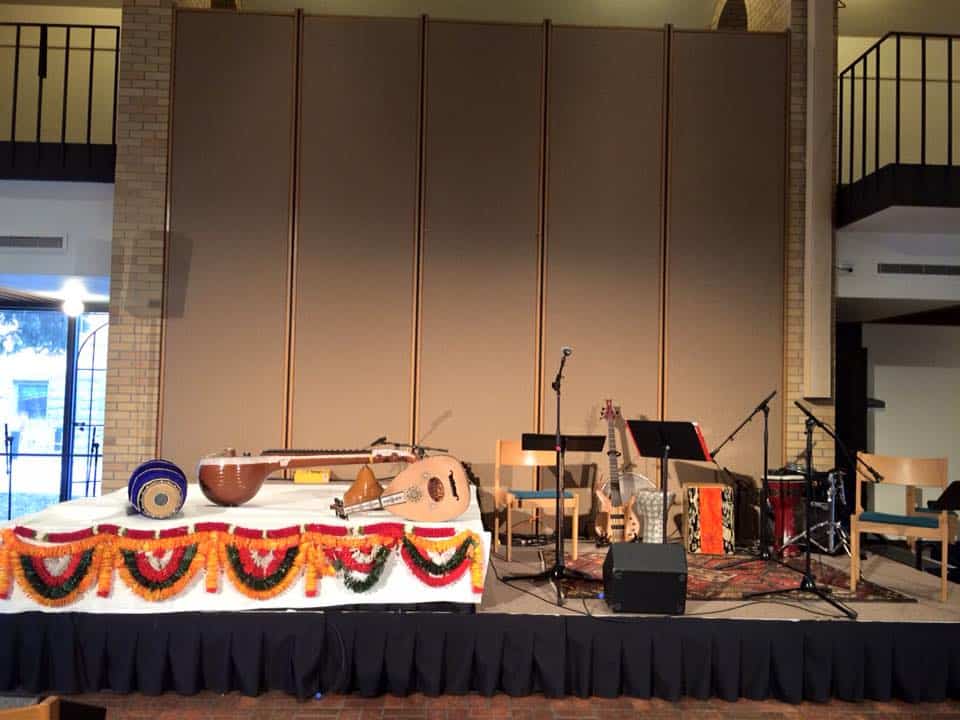 see full post...